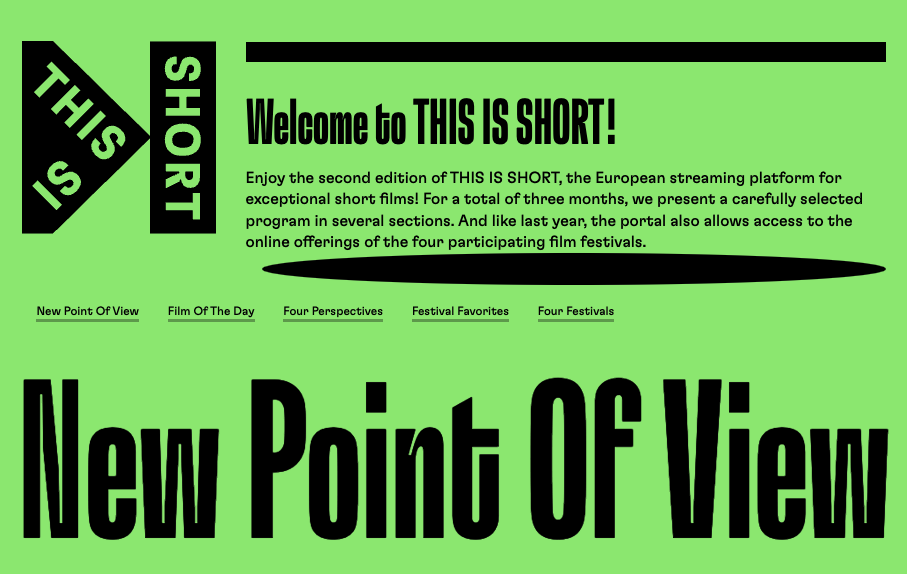 THIS IS SHORT
Our video 'White Shadow' will part of the 'New Point of View' at THIS IS SHORT.
The European Short Film Network (ESFN) is a close association of renowned European short film festivals based on shared principles, shared ideas and shared technology. The ESFN currently consists of the four festivals Go Short – International Short Film Festival Nijmegen (NL), International Short Film Festival Oberhausen (DE), Vienna Shorts – International Short Film Festival (AT) and Short Waves Festival (PL).
Initiated by the Short Film Festival Oberhausen and founded in 2018, the ESFN pursues the goal of working closely together on common projects, making European short films and industry knowledge more accessible, and jointly mastering the coming challenges in the international festival landscape. The technological basis for the network is the festival management system Filmchief which was co-initiated by Go Short, is used by all ESFN members and has since been developed further collaboratively.
The network deliberately focuses on the short film format. Short film is and has always been the prime source of innovation for the art of film and filmmaking, the experimental field in which future cinematic vocabularies first crystallize. The festivals of the ESFN are therefore convinced that a strong short film festival network––based on common projects on site as well as a shared digital platform––is the key to promoting outstanding films and the talents behind them.
NEW POINT OF VIEW – The European online competition presents 23 short films (under 20 minutes). The nominated films will be presented consecutively for seven days each, starting April 1. A jury will decide on two prizes (totaling 6,000 euros), which will be awarded on June 21.
Online access thisisshort.filmchief.com